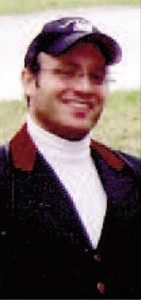 Eliot Ramsay Kalmbach
, 24, of Downingtown, a Princeton University senior and a senior whipper in with Skycastle, died September 22, 2009 from a fall while hiking with a friend in Grand Teton National Park in Wyoming. Eliot started whipping in with Skycastle in elementary school and hunted with the pack until the week before his death. His parents gratefully credit his Skycastle friendships with people of all ages and the discipline, teamwork, and camaraderie of the hunt staff as major influences in his life. He brought what he learned at Skycastle with him in adventures all over the world.

Eliot graduated from Downingtown West High School in 2004. An Eagle Scout with Hopewell Troop 8, he spent a summer as a ranger at Philmont Scout Ranch, the Boy Scouts' high-adventure camp in New Mexico. Eliot was an experienced, safety conscious mountaineer and was a member of the Explorers Club of New York. He traveled extensively in the Middle East and climbed Mount Kilimanjaro two summers ago.
A geoscience major at Princeton, Eliot took off the spring semester of his sophomore year to intern at the Lee Institute for Japanese Art in Hanford, Calif., and to participate in an archaeology dig in Syria. That fall, he attended the National Outdoor Leadership School in Patagonia, Chile, before returning to Princeton. He took off the spring semester this year to work on a start-up venture. He and other students were developing software that would allow high school students to prepare for SATs by using their iPhones. Over the summer, he studied volcanoes in Russia. Eliot was in Wyoming on his way to Washington state, where he was going to be an intern at Intellectual Ventures in Bellevue. He planned to work all week and hike in the Northwest on weekends before returning to Princeton in January for his final semester.
Eliot lived life to the fullest. His warmth, humor and enthusiasm knew no bounds. He truly made our lives better and brighter.